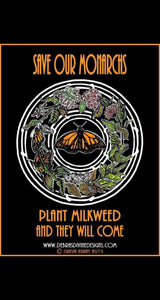 Debra's Divine Designs
Monarch Butterfly Poster
Regular price
$16.00
Sale price
$22.00
Unit price
per
Beautifully hand signed 11x17 posters designed by established Rock Poster Artist Criesta Jerray. We collaborated on this designs as a symbol for my business to sell at shows and online to help raise money for the Monarch Butterflies. 100% of proceeds will be used to purchase milkweed seeds to distribute to all client's of my butterfly wing jewelry and to donate to Monarch Watch.
The poster shows the whole life cycle of both the milkweed plant from seed to full leaves and the monarchs from egg to butterfly. The style is Art Nouveau. These are collector item posters as Criesta is highly known in North America as one of the very few female rock poster artist who still does all her designs by hand. More about her work here: https://www.facebook.com/gratefulexpressions
I have had her sign 100 of these only as a first run. Posters come in a safe tube in the mail and ready for mounting of your choosing.
Monarch butterflies in North America are a species at risk. Their population is declining at astonishing numbers. In order to conserve and care for future generations, planting milkweed seeds needs to become a national priority. More information here at http://monarchwatch.org/
Follow me on Instagram here:   Debra's Divine Designs (@debras_divine_designs) • Instagram photos and videos
---
Share this Product
---